The 40th Dartmoor Folk Festival will take place on the 11th, 12th & 13th August 2017 in the village of South Zeal near Okehampton in Devon. We have another packed programme of concerts, ceilidhs, workshops, song and music sessions, a children's festival, craft displays, folk service, a Dartmoor ramble and much more. Check out the ARTISTS page and other tabs regularly for updates.
Please don't forget that DOGS are not permitted at any festival venue including the recreation ground. They are welcome on the festival campsite on a lead.
TICKET NEWS - You now have the option to buy your weekend / day tickets online via Credit/Debit Card or PayPal. See the TICKETS page for details.
CONCERT NEWS - The Victory Hall is now solely a concert venue which has meant we've been able to add another concert and also increase the existing ones. 40% more concerts than last year, for the same money! (Due to limited seating, advance tickets will not be available for Victory Hall Concerts. Tickets will be available on the door if there is room following weekend and day ticket holders)

FERRET NEWS - Terry Moule will be with us once again on the Sunday afternoon with his ever popular ferret racing!
DRESSING UP NEWS - To celebrate 40 years of the Festival the Saturday Evening Ceilidh will be Ruby Red Themed ! So if you enjoy dressing up as much as the Dartmoor Pixie Band do then wear something red and join in the fun!
CHILDREN'S NEWS - This years exciting lineup has been confirmed. Check out the Children's Festival page for details.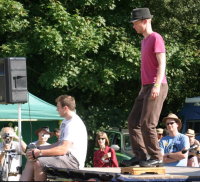 STEPDANCE NEWS. Folk music charity Traditional Arts Support in the Community (TASC) receives National Lottery funding to carry out research into the traditional step dancing of Dartmoor. This project is now well under way. If you have any memories of Dartmoor Stepdancing, or photos / videos we'd love to hear from you. Drop us a line via the Contact page. For details click here to visit the project website.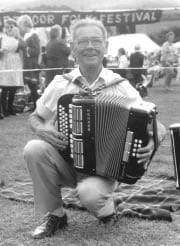 In the words of the late Bob Cann BEM (the festival's founder) "Yer tiz again - zongs, music and danzin' from dear ole Dart-i-moor! Welcum to this gurt weekend 'ope twill run proper zuent!" Proper Job.