Plans are well under way for the 40th Dartmoor Folk Festival which will take place on the 11th, 12th & 13th August 2017 in the village of South Zeal near Okehampton in Devon. We'll have another packed programme of concerts, ceilidhs, workshops, song and music sessions, a children's festival, craft displays, folk service, a Dartmoor ramble and much more. Check out the ARTISTS page and other tabs regularly for updates.
Please don't forget that DOGS are not permitted at any festival venue including the recreation ground. They are welcome on the festival campsite on a lead.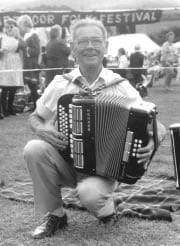 In the words of the late Bob Cann BEM (the festival's founder) "Yer tiz again - zongs, music and danzin' from dear ole Dart-i-moor! Welcum to this gurt weekend 'ope twill run proper zuent!" Proper Job.