Welcome To The Dartmoor Folk Festival
*** EXCITING NEWS ***
VIRTUAL DARTMOOR STEP DANCE & BROOM DANCE COMPETITIONS 2020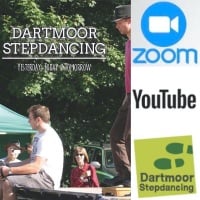 VIRTUAL STEP DANCE CLICK HERE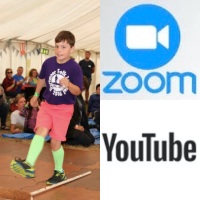 VIRTUAL BROOM DANCE CLICK HERE
It is with much sadness that we have made the difficult decision to postpone this year's Dartmoor Folk Festival. We have been working hard to try to find a way to run the event as planned, but the ongoing developments surrounding the Covid-19 pandemic will not allow us to do so safely. After 42 years of being an annual event, you will appreciate that this decision has not been taken lightly.
Our top priority has to be the wellbeing of everyone involved in staging the festival, the hundreds of visitors who join us every year, and most importantly the wider local community.
We know that this news will be a huge disappointment to all involved and The Festival Association appreciates that it will have a significant impact on local businesses, our suppliers, traders, and the artists we had booked to perform.
On a brighter note, we look forward to welcoming everyone to the Festival again next year on August 6, 7 and 8, 2021 for a 'proper job' celebration of the music, song and dance traditions of Dartmoor. We are already taking 'steps' to move artists bookings to the 2021 line-up and details will be confirmed later in the year. Those who have booked tickets for this year will automatically roll over to 2021, or if requested, refunds will be made.
We will all miss catching up with old friends this August, and as well as sending our best wishes, we thank everyone for their understanding and support.
The
43rd Dartmoor Folk Festival
is now proposed to take place on the 6
th, 7th & 8th August 2021
in the village of South Zeal near Okehampton in Devon. We look forward to seeing you again next year for another exciting packed weekend of concerts, ceilidhs, workshops, song and music sessions,
children's festival
,
craft displays
, folk service, Dartmoor ramble and much more. Check out the
ARTISTS
page and other tabs.
Also keep an eye on our social media feeds for updates. Facebook, Twitter - @dartmoorfolk and Instagram - dartmoorfolkfestival.media
Please don't forget that DOGS are not permitted at any festival venue including the recreation ground. (terms and conditions of the venues that we hire) They are welcome on the festival campsite on a lead.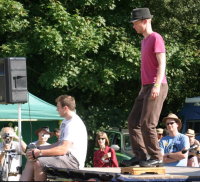 STEPDANCE NEWS. The Dartmoor Stepdance Project was a huge success and is still going, visit the website for details http://www.dartmoorstepdance.org.uk
If you have any memories of Dartmoor Stepdancing, or photos / videos we'd love to hear from you. Drop us a line via the Contact page. For details click here to visit the project website.

Tinners Morris - Come and join the fun.
Click here for info.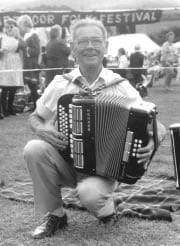 In the words of the late Bob Cann BEM (the festival's founder) "Yer tiz again - zongs, music and danzin' from dear ole Dart-i-moor! Welcum to this gurt weekend 'ope twill run proper zuent!" Proper Job.
loading...
Some photos from 2017
Photos courtesy of Alan Quick.