Welcome To The Dartmoor Folk Festival 5th, 6th & 7th August 2022
Weekend tickets are now on sale!


Ticket numbers will be strictly limited due to venue capacity. Weekend tickets will give you access to all festival events including the 5 concerts and/or the Saturday night Ceilidh.
They are available with or without camping. Camping is only available to full weekend ticket holders.
Individual Saturday night Ceilidh tickets are also available to book and again will be strictly limited (included with W/E ticket)
Car parking is free for all and does not need to be booked.
The committee are very excited about being back after what has been a challenging time for everyone and hope that Dartmoor 2022 will be a Festival for everyone to enjoy.
All subject to covid guidance at the time of the event.
Also keep an eye on our social media feeds for updates. Facebook, Twitter - @dartmoorfolk and Instagram - dartmoorfolkfestival.media
Please don't forget that DOGS are not permitted at any festival venue including the recreation ground. (terms and conditions of the venues that we hire) They are welcome on the festival campsite on a lead.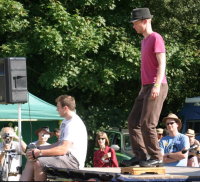 STEPDANCE NEWS. The Dartmoor Stepdance Project was a huge success and is still going, visit the website for details http://www.dartmoorstepdance.org.uk
If you have any memories of Dartmoor Stepdancing, or photos / videos we'd love to hear from you. Drop us a line via the Contact page. For details click here to visit the project website.

Tinners Morris - Come and join the fun.
Click here for info.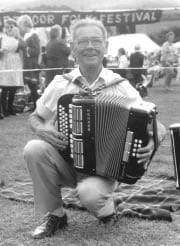 In the words of the late Bob Cann BEM (the festival's founder) "Yer tiz again - zongs, music and danzin' from dear ole Dart-i-moor! Welcum to this gurt weekend 'ope twill run proper zuent!" Proper Job.
loading...
Some photos from 2017
Photos courtesy of Alan Quick.